Disc Over Balkan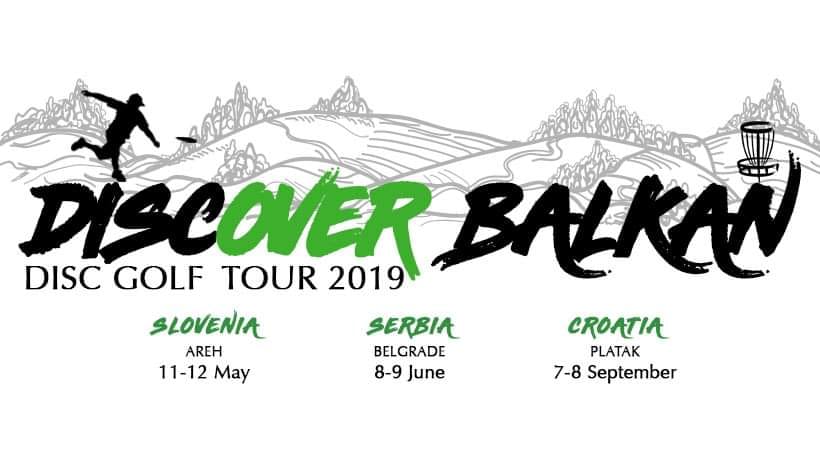 We are excited and happy to welcome you at 'DiscOver Belgrade' tournament a proud member of very first 'DiscOver Balkan' league. We hope to see many more in years to come and we would like to thank you for confirming your participation and for supporting disc golf growth in the region! Below please find some updates about DiscOver Belgrade tournament, June 8/9:
ACCOMMODATION:
To make sure you don't miss any fun while in Belgrade we are offering rooms in the very heart of the city in Skadarska street. This location is well known for it's vibrant lifestyle with a lot of traditional restaurants, cafes and clubs. The price is 15€ per person a night and we offer 2 bed and 3 bed rooms. Photos of actual rooms you can see here. We can also offer stay at couple of more locations in city center in case Skadarska street capacity gets exceeded.
BREAKFAST:
Breakfast is optional, however we made sure you eat well before play and we will be offering a full buffet at 'Velika Skadarlija' restaurant, also located in Skadarska street.
PAYMENT:
We will be applying cash only policy and payment will be handled on spot at the time of arrival, including the tournament fee (20€)
COURSE:
Course is located at Usce park, at confluence of rivers Danube and Sava- 15-20 minute walk from city center or 9 minute drive. We will play 3 rounds of standard 18 hole course plus finals.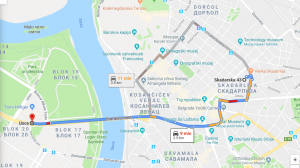 Course map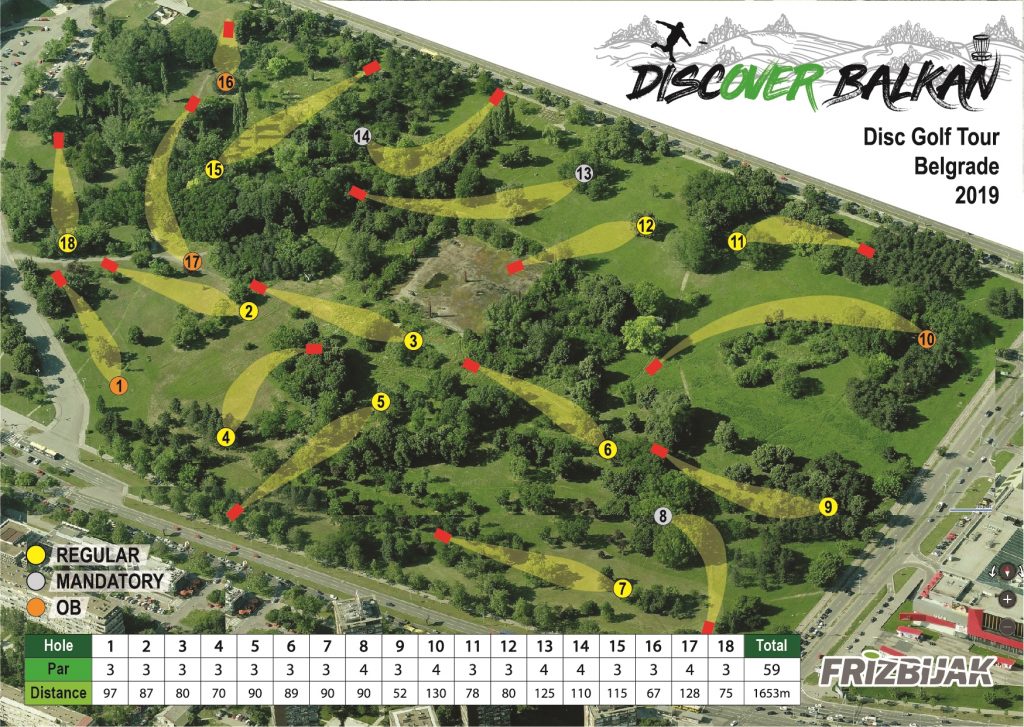 CONTACT PERSONS:
For any assistance with accommodation and your arrival you can reach out to several people in the team:
Official email: frizbijak@gmail.com
Veselin Neskovic- neskovic.veselin@gmail.com
Ivan Jakovljevic- ckoivspla@gmail.com
Milan Todorovic- todorovicev@gmail.com
Nenad Radojevic- nenad.radojevic@gmail.com
Or via Facebook: Frizbi Golf Srbija- Disc Golf Serbia page
*Here is a reminder of Tournament program:
Friday, 07.06.2019.
14:00-19:00 The Course at Ušce is open for practice
19:30- 01:00 Welcome party in one of many Belgrade's clubs in city center,
21:00 Putting tournament
Saturday, 08.06.2019.
09:30 Player's meeting
10:00 Tee Off 1st Round!
Lunch break:
After round 1, lunch will be served in one of the great places on river Sava, with a fantastic view of old Belgrade and famous Kalemegdan fortress.
15:00 Tee Off 2nd Round!
21:00 The journey in the night begins and for some might not end until early morning sun!
Sunday, 09.06.2019.
09:30 Player's meeting
10:00 Tee Off 3rd Round!
Lunch break
15:00 DiscOver Belgrade 2019 Finals
17:00 Winners ceremony
Welcome players and see you soon!
Frizbijak team
Registered Players
| Name | Gender | Country | PDGA Number |
| --- | --- | --- | --- |
| Svit Savnik | Male | Slovenia | 83880 |
| Toni Vuković | Male | Croatia | 107319 |
| Bojan Burić | Male | Serbia | 103568 |
| Primož Tartinek | Male | Slovenia | 72630 |
| Andrej Slavič | Male | Slovenia | N/A |
| Mojca Bernjak | Female | Slovenia | N/a |
| Dejan Dobreta | Male | Serbia | 106611 |
| Dejan Vuksic | Male | Serbia | N/A |
| Aljoša Grgurič | Male | Slovenia | N/A |
| Maja Šimenc | Female | Croatia | 52334 |
| Josip Bošnjaković | Male | Aruba | 107997 |
| Vjeran Tuhtan | Male | Croatia | #98001 |
| Toma Djordjevic | Male | Serbia | #103674 |
| Tijana Šotić | Female | Serbia | 89685 |
| Tommy Vacca | Male | Austria | 31917 |
| Mark Maze | Male | Slovenia | 16662 |
| Alojz Gutovnik | Male | Slovenia | 94077 |
| Grega Triplat | Male | Slovenia | 72353 |
| Bojan Trost | Male | Slovenia | 76090 |
| Zack Bevelacqua | Male | Slovenia | 105654 |
| Andreja Bernjak | Female | Slovenia | 109239 |
| Aleksandar Sudžuković | Male | Croatia | 81081 |
| Nino Đurak | Male | Croatia | 66496 |
| Aleksandar Aki Vuckovic | Male | Croatia | 62431 |
| Danica Pajtak | Female | Croatia | 62432 |
| Ira Molnar Gorički | Female | Croatia | 69639 |
| Ana Gorički | Female | Croatia | 99333 |
| Tomislav Gorički | Male | Croatia | 69640 |
| Danijela Karanovic | Female | Serbia | 120847 |
| Tiina Riekkola | Female | Finland | 79803 |
| Dejan Prvulović | Male | Serbia | 106615 |
| Veselin Neskovic | Male | Serbia | 103567 |
| Predrag Nikolić | Male | Serbia | 119611 |
| Nenad nikolic | Male | Serbia | 119612 |
| Aleksandar Jankovic | Male | Serbia | 117407 |
| Mrgud Pajko | Male | Serbia | 101364 |
| Radule Mikić | Male | Croatia | 62426 |
| Stefan Mažić | Male | Serbia | 102749 |
| Terhi Kytö | Female | Finland | 79817 |
| Derek Robins | Male | United Kingdom | 5980 |
| Aleksandar Rutic | Male | Serbia | 106613 |
| Vladan Jovicic | Male | Serbia | 120412 |
| Vanja Brozovic | Male | Croatia | 57256 |
| Nemanja Zutobradic | Male | Serbia | 91918 |
| Milan Todorovic | Male | Serbia | 87739 |
| Ivan Jakovljević | Male | Serbia | 96981 |
| Nenad Radojevic | Male | Serbia | 42496 |
| Milos Djukanovic | Male | Serbia | 102906 |