Dear fellow disc golfers we are very happy that after a year long break we can announce DiscOver Balkan Cup Tournament that will take place in Belgrade on September 4 and 5, 2021. This year this will be the only event in DiscOver Balkan Disc Golf Tour series and hopefully next year we will be able to go back to previous competition format with a series of C-Tier Tournaments that will be held in Slovenia, Serbia and Croatia.
DiscOver Balkan Cup will be a two day C-Tier Tournament and will be played in 3 rounds (18 holes per round) plus finals. Players will be competing in MPO and FPO divisions but organizers will be opening additional divisions based on the number of players registered!
Winners of all divisions will be competing for valuable prizes while special awards are reserved for best ranked players from the Balkans!
DiscOver Balkan Cup 2021 program:
Friday, 03.09.
14:00 – 18:30 The Course at Ušce is open for practice
19:30- 01:00 Welcome party in one of many Belgrade's clubs in city center
21:00 Traditional Putting tournament with prizes
Saturday, 04.09:
09:30 Player's meeting
10:00 Tee Off 1st Round!
Lunch break on river Sava, with a fantastic view of old Belgrade and famous Kalemegdan fortress.
15:00 2nd round tee off
21:00 Hanging out in one of many places in Belgrade downtown
Sunday, 05.09:
09:30 Player's meeting
10:00 Tee Off 3rd Round!
Lunch break
15:00 DiscOver Balkan Cup Finals
17:00 Winners ceremony
REGISTRATION
Registration will be open for players from 07.07.2021 to 02.09.2021 for all players where players from organizing countries will have the advantage however we strongly encourage players from all countries to feel free to apply. The maximum number of players is 72
Tournament fee: 20 euro (junior players will not be paying the fee)
Lunch: 5 euros per day on Saturday and Sunday- optional
ACCOMMODATIONS
There are many options of accommodation available on Airbnb with very affordable rates but in case you need any assistance do not hesitate to reach out to contact persons below for help!
UŠĆE PARK Course Map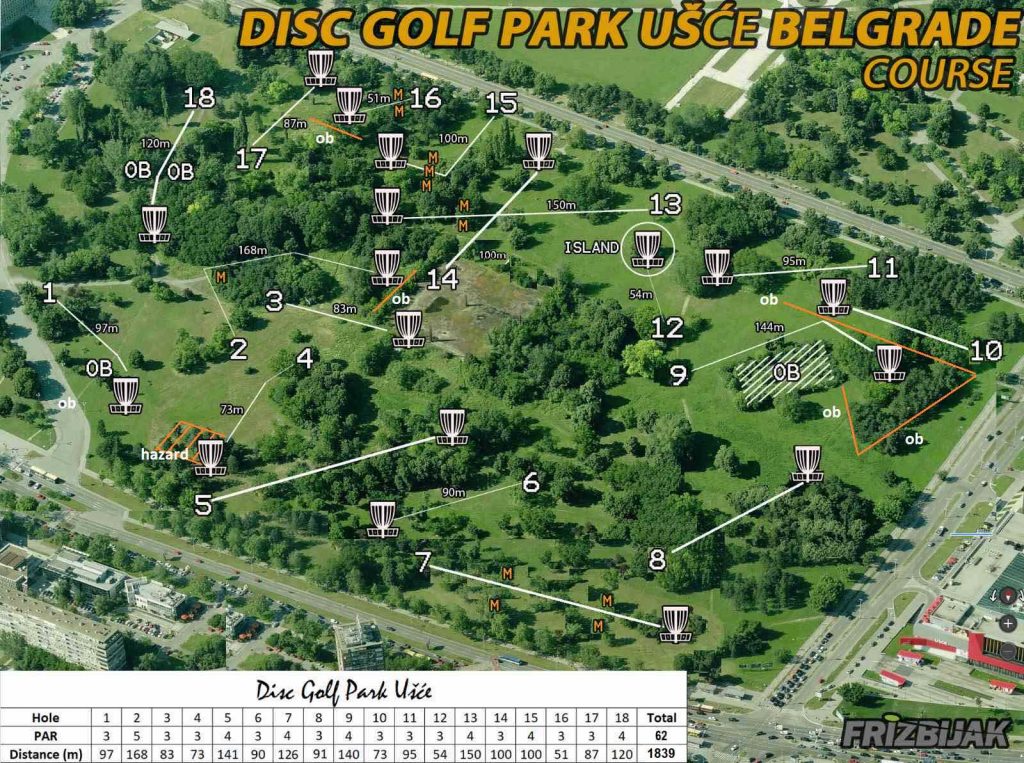 Course is located at Ušće park, at confluence of rivers Danube and Sava – 15-20 minute walk from city center or 9 minute drive.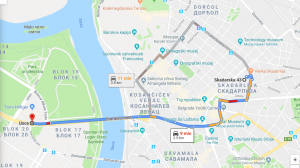 The organizers of DiscOver Balkan Disc Golf Tour 2020 are:
Slovenian Frisbee Association, the Frizbijak Society Beograd and the Croatian flying disc federation.
Welcome players, see you soon!
DiscOver Balkan Cup 2021 Contact persons:
Ivan Jakovljević +381691834440
Milan Todorović +381652525244
web: www.frizbijak.com
e- mail: frizbijak@gmail.com
serbia@pdga-europe.com
facebook: https://www.facebook.com/frizbijak/
Instagram: https://www.instagram.com/discgolfserbia/?hl=en
Registered Players
| Name | Gender | Country | PDGA Number |
| --- | --- | --- | --- |
| Jelena Gecek | Female | Array | 112702 |
| Dinko Šimenc | Male | Array | 52313 |
| Tina Milenković | Female | Array | 138383 |
| Romić Goran | Male | Array | 158830 |
| Jelena Gecek | Female | Array | 112702 |
| Viktor Vasović | Male | Array | |
| Danijela Karanovic | Female | Array | 120847 |
| Vanja Brozovic | Male | Array | 57256 |
| Aleksandar Sudžuković | Male | Array | 81081 |
| Jasmina Nikolić | Female | Array | 128053 |
| Veselin Neskovic | Male | Array | 103567 |
| Nemanja Žutobradić | Male | Array | 91981 |
| Nenad Nikolić | Male | Array | 119612 |
| Igor Babic | Male | Array | 146991 |
| Milan Todorovic | Male | Array | 87739 |
| Dejan Dobreta | Male | Array | |
| Jelena Milovanović | Female | Array | 188087 |
| Stefan Ignjatovic | Male | Array | 176013 |
| Damjan Miladinović | Male | Array | 129681 |
| Andrej Kucera | Male | Array | 160728 |
| Miloš Djukanović | Male | Array | 102906 |
| Kristoffer Bringslid | Male | Array | |
| Herbert Grünsteidl | Male | Array | @165234 |
| Aleksandar Micakovic | Male | Array | 127296 |
| Stefan Brunner | Male | Array | 151541 |
| Aleksandar Janković | Male | Array | 117407 |
| Vladan Jovičić | Male | Array | 120412 |
| Nenad Radojevic | Male | Array | 42496 |
| Dejan Vukšić | Male | Array | 128075 |
| Tijana Šotić | Female | Array | 89685 |
| Danica Pajtak | Female | Array | 62432 |
| Predrag Nikolić | Male | Array | 119611 |
| Nino Đurak | Male | Array | 66496 |
| Aleksandar Rutic | Male | Array | 106613 |
| Ivan Jakovljević | Male | Array | 96981 |